Why decide to participate in a clinical trial ?
By agreeing to participate in a clinical trial, you decide to help with the development of medicine. You will have a unique opportunity to work beyond simply finding a cure for yourself, as you will be involved in curing other patients. You will allow new treatments to become available more quickly while playing an active part in turning knowledge into useful forms of treatment.
Clinical research often speeds up access to new medicines or new techniques, long before they are marketed. When all standard treatments have been exhausted, they provide a way of benefiting from additional help.
You can be given a new treatment, although nobody can guarantee the positive effects of that treatment. In a number of trials, however, you may receive a treatment that is already available, or a product that contains no "active" ingredients.
Pour aller plus loin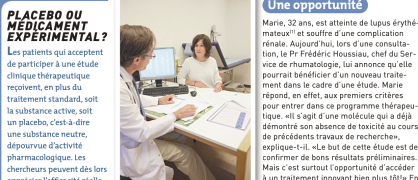 Participer à une étude clinique. Comment cela se passe-t-il?